List your brand to feature your content to a global market across all our channels.
Here on the Marketplace, you can list a resource, product or event. We also have plenty of other advertising options available across our other channels to help you grow your brand, reach a new audience and generate new business.
Our solutions can be tailored to suit your needs – see our options below and get in touch for a bespoke campaign!
Standard Listing
Get your brand offer on a selected page of your choice to build brand awareness, initiate an enquiry for your business or generate a registered audience for your event.
A MySecurity Marketplace listing ensures your business is seen by a targeted group of security and technology professionals, on-demand and from around the world.

Featured Listing
Banner Advertising
Be seen front and centre – our banner advertising across our suite of channels are perfect for brands looking for a digital offering with a captive audience. We have banner advertising across the MySecurity Marketplace website and newsletters plus eight other security and technology websites.
Sponsored Content
Let us tell your story. When booking a digital campaign, we support and assist with advertorial, media releases and weekly posts across three channels. You can select among eight security and technology websites. We will also include your article and news releases in one of our weekly newsletters to our database of more than 10,000 security professionals across Asia Pacific and the globe.
Podcast promotion
It's time for your brand to be heard! With more than 10,000 monthly downloads, the Cyber Security Weekly Podcast is the place to be.
The podcast is downloaded from the USA, Australia, UK, Canada and ASEAN and is promoted across our social media, cybersecurity websites and weekly newsletter.
Our promotion package includes production and broadcast of an editorial interview with your company representative.
Webinar Hosting
Find a new audience for your message! We will promote and host your webinar and deliver to our audience of security and technology professionals. Our webinar episodes are designed to connect you with potential clients ready for your content, featuring:
Expert interviews
Awards
Product reviews
Product walkthroughs
Thinktank discussions
Webinar Sponsorship
Sponsor our latest webinar series to gain global market exposure through video content. Topics include cyber security, space, defence and other related topics.
Our subject matter expert editorial team is known in the market for creating high quality video content for security professionals around the globe. Our series usually have partners in a variety of organisations across the globe, adding credibility to your organisation.
integrated Campaign
Let us promote your products and services with our cross-channel promotion platforms, integrated back to your own brand hub on the MySecurity Marketplace.
Our integrated cross-media solutions help you engage with your audience, wherever they are!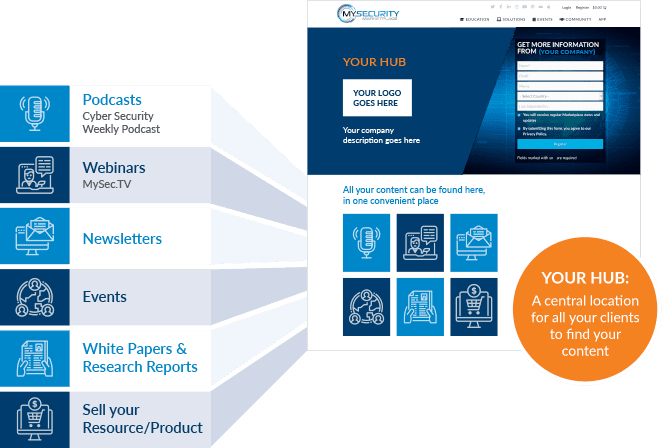 Want to advertise with us?
Select or combine a range of package options for a bespoke campaign with MySecurity Marketplace. Outline below your business and campaign promotion needs and our team will provide a custom package to suit your requirements. Fields marked with an * are required.