Minister's foreword
Ensuring Australians are secure online is a shared responsibility – everyone has a role to play. This Strategy sets out our plan to protect Australians online.
The world has never been more interconnected; our reliance on the internet for our prosperity and way of life never greater. Australia's response to the COVID-19 pandemic has shown the importance of secure online connectivity. It has also shown Australians' resilience and resolve to work together for a common goal. That same whole-of-nation partnership between government, businesses and the community must also be applied to ensuring Australia is cyber secure.
Australians are rightfully seizing the opportunities of our digital world. However, as the opportunities have increased, so too have cyber threats. Well-equipped and persistent state-sponsored actors are targeting critical infrastructure and stealing our intellectual property.
Cyber criminals are also doing great harm, infiltrating systems from anywhere in the world, stealing money, identities and data from unsuspecting Australians. They are taking advantage of COVID-19 to target families and businesses, including health and medical research facilities. And they are hiding on the dark web to traffic drugs and other illicit goods, and share abhorrent images of child abuse. Our response must be bold to meet this threat head on.
This Strategy positions us to meet these evolving threats. Our vision is a more secure online world for Australians, their businesses and the essential services upon which we all depend. We will deliver this vision together, through complementary action by governments, businesses and the community. Through this Strategy the Coalition Government will invest $1.67 billion over ten years in cyber security – the largest ever financial commitment to cyber security. We will develop new Government capabilities, incentivise industry to protect themselves and their customers, build trust in the digital economy, and support the community to be secure online.
This Strategy will benefit all Australians. Families and businesses will have increased access to reliable cyber security advice and assistance. The Coalition Government will boost law enforcement's capacity to combat cyber criminals, improve threat information sharing with industry and support initiatives to grow a skilled cyber workforce. Working in partnership with owners of critical infrastructure, the Government will bolster protecting the critical systems on which all Australians depend.
Our work on ensuring Australia is cyber secure does not end here. This Strategy takes into account that effective cyber security will require an ongoing effort by all of us. The Coalition Government will continue to engage industry, state and territory governments and the public to ensure that initiatives under this Strategy support economic recovery through strong cyber resilience.
This Strategy was developed with the assistance and input of the many Australians who participated in the public consultation. I would like to thank them and the Industry Advisory Panel chaired by Telstra Chief Executive Officer Andy Penn for their commitment, enthusiasm and sound advice, which has been fundamental to developing this Strategy.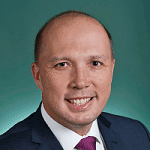 The Hon Peter Dutton MP
Minister for Home Affairs
6 August 2020