Executive Advisor | Published Author, International Speaker & TEDx Speaker, Host, Podcaster & Influencer
Shamane Tan is passionate about Cyber Risk. She holds a Bachelor of Computer Engineering (Hons) and enjoys the challenge of keeping up to date with the constant evolution of technology & Cyber trends.
As Privasec's APAC Executive Advisor, she desires to use her business mindset coupled with her Computer Engineering background, to help businesses bridge their gaps between technical and business spheres. In this day and age, it is crucial for companies to have in place a strong & effective governance to protect their current infrastructure/ services. Throughout her career, Shamane has partnered directly with CISOs, CTOs, and Global Heads of IT, Infrastructure and Security to help both enterprises to smaller companies in APAC in their growth strategy.
As the author of 'Cyber Risk Leaders' and international speaker, Shamane has frequently been invited to speak on various topics; some recent examples include:
– CISO insights from around the globe
– The world of the Board Directors
– Befriending the Hacker
– The Influencers' secret to building key relationships
Shamane Tan partners with APAC industry leaders to look at the human factor in defense-in-depth all the way to cyber resilience;
– from ICT Governance, Risk Management & Assessments,
– to Compliance: PCI DSS/ ISO27001/ APRA/ NIST/ CSA STAR/ ISM,
– Technical Assurance including Penetration Testing, OSINT, Red Teaming, Purple Teaming, Cloud Security,
– all the way to SCADA testing, Drone Security, Forensic Investigation, Incident Response, CISO-as-a-Service & more.
Author of Cyber Risk Leaders – Global C-Suite Insights – Leadership and Influence in the Cyber Age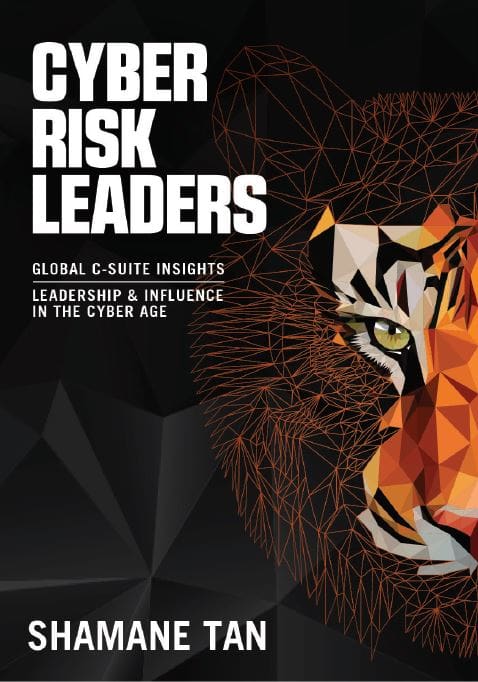 In a time of an ever-changing digital landscape, our industry leaders find that they are playing catch up. Cyber Risk Leaders is a book like no other. This handbook is a laborious product of careful selection and compilation of the best stories and wisdom from over thirty C-executives. Shamane spent several years speaking to CxOs from different industries, and all over the world, from Australia, to Singapore, Israel, the US and the UK, to bring different aspects of successful leadership to life in this book. For those who are interested in learning from your top industry leaders, or if you are an aspiring or a current CISO, this book is gold for your career. It's the go-to book and your CISO kit for the season.
Podcast
Episode 185 – Role of the Chief Information Security Officer (CISO) – Interview with Shamane Tan, author of Cyber Risk Leaders & founder Cyber Risk Meetups
Linkedin Profile